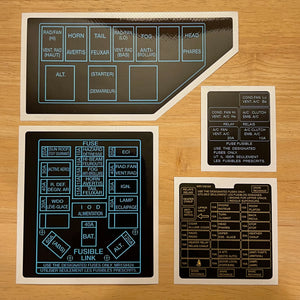 Are your fuse boxes looking a little crusty? Scratches? Not sure what fuses go where? We literally have you covered with our complete set of 3000GT / Stealth fuse box decals. Identical to OEM, 3M 2mil pro-contact film for secure application and long life. Included in the set are:
Engine Fuse Box Upper

Engine Fuse Box Lower

A/C Fuse Box

Interior Fuse Box

3000GT STEALTH SOLUTIONS WILL ALWAYS OFFER FREE SHIPPING TO THE LOWER 48 STATES.